Now Available in Paperback
At once a non-fiction thriller and a moral maze, this book The People Smuggler is one man's epic story of trying to find a safe place in the world.
When Ali Al Jenabi flees Saddam Hussein's torture chambers, he is forced to leave his family behind in Iraq. What follows is an incredible international odyssey through the shadow world of fake passports, crowded camps and illegal border crossings, living every day with excruciating uncertainty about what the next will bring.
Through betrayal, triumph, misfortune – even romance and heartbreak – Ali is sustained by his fierce love of freedom and family. Continually pushed to the limits of his endurance, eventually he must confront what he has been forced to become.
With enormous power and insight, The People Smuggler tells a story of daily heroism, bringing to life the forces that drive so many people to put their lives in unscrupulous hands. It is an utterly gripping portrait of a man cut loose from the protections of civilisation, attempting to retain his dignity and humanity while taking whatever path he can out of an impossible position.
'An astonishing story...' Sebastian Faulks, Favourite Book of the Year 2013, New York Times Book Reviews
'The adventures make Les Miserables look like plain sailing. Unforgettable.' Sebastian Faulks, Favourite Book of the Year 2013, The Guardian
'Just finished the most extraordinary book. It has opened my eyes in a life-changing way ... The People Smuggler, by Robin de Crespigny. Never before have I read such a personable, heart-wrenching account of an asylum seeker and the horrors of what they've had to endure.' Missy Higgins
'A totally riveting story about a brave and honourable man. Passionate, vivid and true, it bounces off the page.' Rosie Scott
'A must-read ... it's an illuminating tale in the context of the asylum seeker debate. A thriller and an inspirational story.' Paul Morgan, Australian Book Review
'While giving us the details of Ali Jenabi's plight, the dramatic narrative holds strong ... Compelling.' Dianne Dempsey, The Age
'This is a story that had to be told.' The Weekend Australian
'An engrossing account of a man seen by some as a saviour and others as a criminal. A significant book.' Thomas Keneally
'This is a story every Australian should read ... a complex mixture of love of family and a hard-edged determination to survive in a brutal, unforgiving world.' Bruce Elder, Sydney Morning Herald
'An epic story full of dramatic reversals and cinematic cliff-hangers ... Ali emerges as an unlikely but true blue hero: resilent, loyal to his mates and protective of those weaker than himself, canny, resourceful, unafraid of sacrifice, a man of honour ...' Jose Borghino, The Australian
 
'His story ... is just mind-blowing. This moving saga of endurance and bravery could well compel a stone to cry.' The Australian Way (Qantas Magazine)
'It's gripping, thrilling, humorous and epic. This book is compulsive reading and a story of our times.' Helen Crompton, The West Australian
'A must-read ... It's an illuminating tale in the context of the asylum-seeker debate ... a thriller and an inspirational story.' 
Jane Sullivan, The Saturday Age
'Tight, powerful and extraordinarily well-written ... It is a book which glories in the strength, courage and compassion of the human spirit.' Bruce Haigh, The Canberra Times
'One of the most immensely readable and most deeply thought-provoking books ... a reminder of the power of literature to capture stories that not only change the world but also change the way we think.' Byron Shire Echo 
'A remarkable tale of one man's odyssey.' The Sunday Mail
'Aptly described as a non-fiction thriller and a moral maze is thus a considered, timely and insightful account of one man's incredible experience.' Michael Jacobsen, Weekend Gold Coast Bulletin
'The story of Ali is one of extraordinary courage which contrasts the human capacity for brutality and cruelty with that of compassion and genuine kindness.' Toowoomba Chronicle
'An amazing book. It reads like an adventure story, telling the harrowing and heartbreaking story of Ali's journey ...' Current Issues in Criminal Justice, Volume 24, Number 2
'Ali's story is absolutely riveting ... read it and be angry. And then maybe write a letter to your MP.' Grant Hansen, Good Reading
'A gripping account of one man's determination to free himself, his family and his people ... a fascinating insider's perspective of the underbelly of a global crisis.' Instyle
'It is an utterly gripping portrait of a man ... attempting to retain his dignity and humanity.' Mid-West Times
'An incredible tale ... utterly gripping and fascinating.' Yen
'Throughout this important book, Ali emerges as an important hero ... It's also a book that reveals the strength of the human spirit.' The Week
'Sometimes, it seems the unlucky just fell to earth ... nothing to define them as human beings ... The People Smuggler changed that for me'. Gail Forrer, Noosa News
'This book should be compulsory reading to those concerned about asylum seekers, which seems to be a great many of us.' Pittwater Life
'With enormous power and insight, The People Smuggler tells a story of daily heroism, bringing to life the forces that drive so many people to put their lives in unscrupulous hands.' Imagine
'The People Smuggler is a fabulous, must-read book.' Fiona Crawford, Boomerang
'The People Smuggler is a rollercoaster, with characters and a story that will stay with you long after you've read it.' Erica Bartle, Girl With a Satchel
'[An] engrossing story ... it will open a country's eyes to what refugees are fleeing from.' Good Reads 
'It is a tribute to the quality of the writing that the book raises political questions about refugees without breaking the stride of the very personal story it tells.' Chris Breen, Refugee Action Collective, Victoria
'This wonderfully written book projects Ali's brave and authentic voice in a way that is captivating and compelling.'
Mark Goudkamp, refugeeaction.org.au
'The book had me turning page after page waiting for a lull, so I could put it down and go to sleep, but none came.' Tarla's Blog, AWA
Published by Penguin Books Australia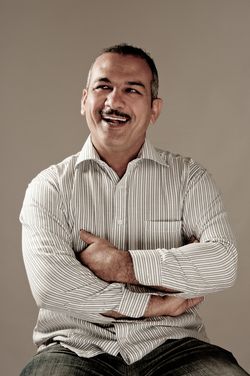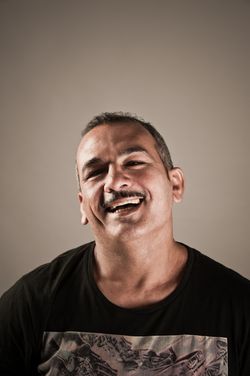 Photos: Cybele Malinowski 
Ali Al Jenabi was born in Iraq in 1970 in Diwaniyah, south of Baghdad. At secondary school he studied accountancy.
In 1991 he was caught by Saddam's army during the Shiite uprising and imprisoned in Abu Ghraib for four years. When released he joined the Resistance in Kurdistan but soon his mother and remaining seven siblings were in danger. He helped them escape to Kurdistan then later to Iran, where they applied to the UN for asylum in Australia but were rejected.
So Ali went ahead of his family to try and find another way. In Indonesia, after being betrayed by a people smuggler he became one himself, and succeeded in getting his family to safety in Australia. In the process he helped over 500 fellow Iraqis reach there too. When tried in a Darwin court he came to be known not as the heinous criminal the government had hoped, but as the Oskar Schindler of Asia.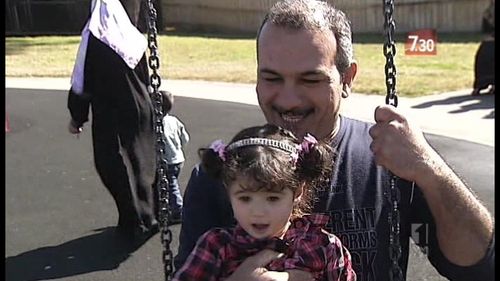 Where is Ali now?
Many readers write to ask where Ali is now and how to help him.

Sadly, Ali's situation is the same as it was at the end of the book. He remains on a punitive Removal visa that can send him back to Iraq any day.

It is tragic that after bringing his family and so many others to safety and a new life, any day he could be returned to a place where he will most likely be killed. Many from Saddam's regime are still around, and after the work Ali did in the Resistance against Saddam, they want revenge.
 
The book has generated a groundswell of support and letters to the Immigration Minister. But now with the current government's brutal policies on asylum seeker,s there is no way of knowing where it will go. Meanwhile Ali remains in what he calls 'limbo hell'. Of particular torment is that he has not seen his daughter for over 11 years.

He lives in a small house in the suburbs with his mother and Hashim. Hashim is grown up with a good job, a car and a girlfriend.

There is a pro forma letter below which you can use for a guide to write to the Minister if you wish to support Ali in trying to get a permanent visa.
Help Ali get a permanent visa - write to the Immigration Minister
Ali is still on a "bridging removal pending" visa which means he lives in uncertainty about his future and can be deported back to Iraq at any time.  
If you wish to contact the Minister for Immigration and Border Protection, Peter Dutton, on behalf of Ali Al Jenabi regarding his case, below is a suggested pro forma which you can use as a guide:
Dear Minister,
• I/we would like to express concern for how Iraqi refugee Ali Al Jenabi's application for residency in this country has been handled by the Australian government and recommend that you grant him a permanent visa.
• He is clearly escaping persecution and while he practiced as a people smuggler in 2001 and 2002, he has been tried and done his punishment. He has been found to be a legitimate refugee by an officer from your department, and cleared by ASIO.
• To the hundreds of asylum seekers Ali brought to Australia he is seen as a hero. He didn't make money from bringing them here, the boats were safe, and as the book 'The People Smuggler' makes clear, Ali's motives were humanitarian and to save his family.
• Now Ali's entire family and virtually all those he brought here have citizenship and live productive, safe lives, paying taxes and educating their children. Yet Ali, the head of his family, languishes on a Removal visa in 'limbo hell'.
• I/we believe Ali would make an exemplary addition to our society. His bravery, courage, and decency as a man are to be applauded.
I/we appeal to you to grant him permanency in this country with his family.  
Send letter or email to:
David Coleman MP
Minister for Immigration
david.coleman.mp@aph.gov.au
PO Box 564 Revesby NSW 2212
Alan Tudge MP
Acting Minister for Immigration
alan.tudge.mp@aph.gov.au
(02) 6277 7790
Peter Dutton
Minister for Home Affairs 
PO BOX 6022 
Parliament House 
CANBERRA ACT 2600
(02) 6277 7860
peter.dutton.mp@aph.gov.au
And copies to:
The Prime Minister
Scott Morrison's Office
scott.morrison.mp@aph.gov.au
Electorate Office 
Suite 102, Level 1 
30 The Kingsway 
Cronulla, NSW, 2230 
Postal address 
PO Box 1306 
Cronulla, NSW, 2230 
Telephone: (02) 9523 0339 
Fax: (02) 9523 8959 
Parliament Office 
PO Box 6022 
House of Representatives 
Parliament House 
Canberra ACT 2600 
Telephone: (02) 6277 7700 
Fax: (02) 6273 4100