Now Available in Paperback
At once a non-fiction thriller and a moral maze, this book The People Smuggler is one man's epic story of trying to find a safe place in the world.
When Ali Al Jenabi flees Saddam Hussein's torture chambers, he is forced to leave his family behind in Iraq. What follows is an incredible international odyssey through the shadow world of fake passports, crowded camps and illegal border crossings, living every day with excruciating uncertainty about what the next will bring.
Through betrayal, triumph, misfortune – even romance and heartbreak – Ali is sustained by his fierce love of freedom and family. Continually pushed to the limits of his endurance, eventually he must confront what he has been forced to become.
With enormous power and insight, The People Smuggler tells a story of daily heroism, bringing to life the forces that drive so many people to put their lives in unscrupulous hands. It is an utterly gripping portrait of a man cut loose from the protections of civilisation, attempting to retain his dignity and humanity while taking whatever path he can out of an impossible position.
'An astonishing story...' Sebastian Faulks, Favourite Book of the Year 2013, New York Times Book Reviews
'The adventures make Les Miserables look like plain sailing. Unforgettable.' Sebastian Faulks, Favourite Book of the Year 2013, The Guardian
'Just finished the most extraordinary book. It has opened my eyes in a life-changing way ... The People Smuggler, by Robin de Crespigny. Never before have I read such a personable, heart-wrenching account of an asylum seeker and the horrors of what they've had to endure.' Missy Higgins
'A totally riveting story about a brave and honourable man. Passionate, vivid and true, it bounces off the page.' Rosie Scott
'A must-read ... it's an illuminating tale in the context of the asylum seeker debate. A thriller and an inspirational story.' Paul Morgan, Australian Book Review
'While giving us the details of Ali Jenabi's plight, the dramatic narrative holds strong ... Compelling.' Dianne Dempsey, The Age
'This is a story that had to be told.' The Weekend Australian
'An engrossing account of a man seen by some as a saviour and others as a criminal. A significant book.' Thomas Keneally
'This is a story every Australian should read ... a complex mixture of love of family and a hard-edged determination to survive in a brutal, unforgiving world.' Bruce Elder, Sydney Morning Herald
'An epic story full of dramatic reversals and cinematic cliff-hangers ... Ali emerges as an unlikely but true blue hero: resilent, loyal to his mates and protective of those weaker than himself, canny, resourceful, unafraid of sacrifice, a man of honour ...' Jose Borghino, The Australian
 
'His story ... is just mind-blowing. This moving saga of endurance and bravery could well compel a stone to cry.' The Australian Way (Qantas Magazine)
'It's gripping, thrilling, humorous and epic. This book is compulsive reading and a story of our times.' Helen Crompton, The West Australian
'A must-read ... It's an illuminating tale in the context of the asylum-seeker debate ... a thriller and an inspirational story.' 
Jane Sullivan, The Saturday Age
'Tight, powerful and extraordinarily well-written ... It is a book which glories in the strength, courage and compassion of the human spirit.' Bruce Haigh, The Canberra Times
'One of the most immensely readable and most deeply thought-provoking books ... a reminder of the power of literature to capture stories that not only change the world but also change the way we think.' Byron Shire Echo 
'A remarkable tale of one man's odyssey.' The Sunday Mail
'Aptly described as a non-fiction thriller and a moral maze is thus a considered, timely and insightful account of one man's incredible experience.' Michael Jacobsen, Weekend Gold Coast Bulletin
'The story of Ali is one of extraordinary courage which contrasts the human capacity for brutality and cruelty with that of compassion and genuine kindness.' Toowoomba Chronicle
'An amazing book. It reads like an adventure story, telling the harrowing and heartbreaking story of Ali's journey ...' Current Issues in Criminal Justice, Volume 24, Number 2
'Ali's story is absolutely riveting ... read it and be angry. And then maybe write a letter to your MP.' Grant Hansen, Good Reading
'A gripping account of one man's determination to free himself, his family and his people ... a fascinating insider's perspective of the underbelly of a global crisis.' Instyle
'It is an utterly gripping portrait of a man ... attempting to retain his dignity and humanity.' Mid-West Times
'An incredible tale ... utterly gripping and fascinating.' Yen
'Throughout this important book, Ali emerges as an important hero ... It's also a book that reveals the strength of the human spirit.' The Week
'Sometimes, it seems the unlucky just fell to earth ... nothing to define them as human beings ... The People Smuggler changed that for me'. Gail Forrer, Noosa News
'This book should be compulsory reading to those concerned about asylum seekers, which seems to be a great many of us.' Pittwater Life
'With enormous power and insight, The People Smuggler tells a story of daily heroism, bringing to life the forces that drive so many people to put their lives in unscrupulous hands.' Imagine
'The People Smuggler is a fabulous, must-read book.' Fiona Crawford, Boomerang
'The People Smuggler is a rollercoaster, with characters and a story that will stay with you long after you've read it.' Erica Bartle, Girl With a Satchel
'[An] engrossing story ... it will open a country's eyes to what refugees are fleeing from.' Good Reads 
'It is a tribute to the quality of the writing that the book raises political questions about refugees without breaking the stride of the very personal story it tells.' Chris Breen, Refugee Action Collective, Victoria
'This wonderfully written book projects Ali's brave and authentic voice in a way that is captivating and compelling.'
Mark Goudkamp, refugeeaction.org.au
'The book had me turning page after page waiting for a lull, so I could put it down and go to sleep, but none came.' Tarla's Blog, AWA
Published by Penguin Books Australia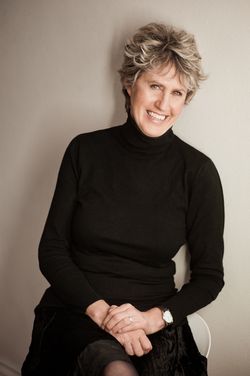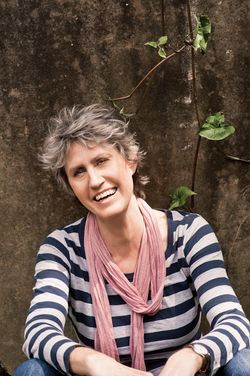 Photos: Cybele Malinowski 
Robin de Crespigny is a Sydney film-maker, producer, director, writer and a former Directing Lecturer at the Australian Film, Television & Radio School.
After modest beginnings with her three sisters in the bush in the Western district of Victoria, followed by boarding school at the Hermitage in Geelong, where she aspired to study journalism, she graduated from Melbourne's La Trobe University with an Arts degree in Literature, where she joined the protests against the Vietnam War before travelling extensively throughout Asia, Mexico and America. 
While living in New York Robin discovered a deep passion for film-making, and after working in almost every area of production, decided to move into Directing so returned to Melbourne and studied at Swinburne Film School, where she wrote and directed her first short film, Letting Go.
Robin's subsequent work includes the TV drama This Time Next Time (1990), Sanctuary (screenplay by David Williamson), and the script Intersection, which was nominated in the 2007 Inside Film Awards. In 2008 her short children's film Wee Dreaming screened nationally as part of Little Big Shots and around the world in other international film festivals. 
That same year Robin began work on a film script about the life of Ali Al Jenabi, an Iraqi refugee who became a people smuggler to get his family to safety. His legal battles with the Federal Government to acquire his own freedom had made headlines. After six months of wrestling with the epic breadth of his journey; with its uprisings, repressions, military conflicts and imprisonments, desperate escapes via mountain treks and ships on high seas; from Saddam Hussein's Iraq across two continents and at least six countries, to his trial and jail in Darwin, detention in Villawood, plus his personal life of family, loves, and losses, she realised a book would serve this story better. Thus began three years of meticulous research, travel to Indonesia to retrace Ali's steps, to Darwin to dig up material from a year of legal trials, and hundreds of hours in conversations with Ali himself, a Muslim man who arrived in Australia speaking Arabic, Kurdish, Farsi and Indonesian, but very little English.
She has born honest witness to a lifetime of extraordinary events while revealing the universal emotions and internal processes at the heart of the lifechanging moral choices Ali made as he strived to save so many others. 
Robin lives in Sydney with her husband, composer Christopher Gordon. Aside from film-making she has also worked as an entrepreneur touring overseas performers, in photography in San Francisco, on fishing boats and canneries in Alaska, and as the owner/manager of Sydney winebar and music joint, The Limerick Castle.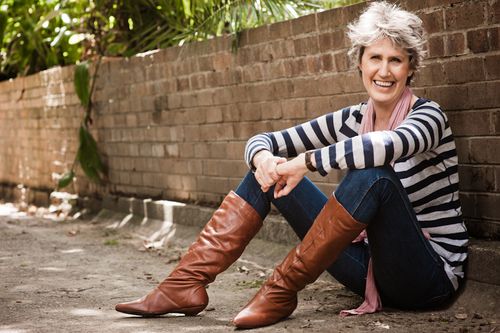 Photo: Cybele Malinowski 
Author's note: How I came to write The People Smuggler
I began the long journey of writing this book when refugee advocate Ngareta Rossell came to me in 2008 with the idea of writing a film script based on the life of Ali Al Jenabi. The epic breadth of his story is so great, with its cast of thousands, military conflicts, desperate moun­tain treks, boats on highs seas, and a journey across two continents and at least six countries, each with its own unique culture and language, that I somewhat gratefully took the suggestion of screenwriter John Collee to tell the story in book form first.
Thus began an expedition of more than three years working intensely with Ali. He is an Arabic Muslim man and I am a Western agnostic woman. Gaining each other's trust, especially after what he had been through, meant that initially we focused on the events and not the internal story. What fascinated me most was not only Ali's moral fibre and strength of spirit, but the depth of his self-awareness. This was accompanied by an infectious sense of humour that seemed to transcend even the most severely traumatic incidents. In truth, despite Ali's remarkable memory, it was tremendously hard for him to dredge up the details of his life for months on end.
We met every few weeks, often over lunch at Ngareta's home. I recorded all our conversations, then spent long hours meticu­lously transcribing them. By the time I had mapped out the complex sequence of events in his story we had grown to know each other bet­ter, so returning to the start I asked more personal questions, and bit by bit we traversed the emotional depths of his odyssey. For me the meat of the story is the life-changing moral choices he faced while carrying so much responsibility for others, and the internal process by which he made his decisions.
As we went deeper I found the emotions involved were ones we can all identify and empathise with. In this way I believe it is a universal story about one individual in the storm of life, and that by travelling with him we can understand the bigger picture of why peo­ple make the choices they do to get on leaky boats, and how none of it is black and white. This is a story not so much about people smug­gling, as about a man who happened to become one.
Half a lifetime of extraordinary events with hundreds of encoun­ters has demanded some truncation of incidents and merging of minor characters. Also some names have been changed or omitted. This is particularly notable in the chapter dealing with the hearing in the Darwin Magistrate's Court. The Commonwealth DPP refused to agree to co-operate with the lifting of a suppression order on witnesses, despite the relevant details being freely available on the internet.
Like all refugee stories where trauma is a daily fact of life, it has not always been possible to tie down exact dates, and very occasion­ally I have had to reconstruct incidents with the fragments of memory available, offsetting them where possible against more certain recol­lections, or lining them up with known historical incidents. However, the tone and emotional experience is always accurate.
I made the decision to write this book in the first person to enable the reader to experience Ali's life at first hand by being placed in his shoes. Until Ali reached Australia he spoke Arabic, Kurdish, Farsi and Indonesian, but very little English. So the voice is essentially a construct of him and me, in the English language as he might have used it. As all the events are through his eyes, the view of those events reflect Ali's recollections.
I feel privileged that Ali has allowed me to preserve his story and pass it on to the world.
Q & A with Robin de Crespigny
What is your new book, The People Smuggler about?
It is the true story of Ali Al Jenabi, an Iraqi refugee who survived Abu Ghraib, joined the resistance and became a people smuggler to save his family, and ultimately came to be seen, not as the heinous criminal the Australian government believed him to be, but as the "Oskar Schindler" of Asia.
What or who inspired it?
Ali Al Jenabi's story was such an extraordinary yet accessible human drama, both deeply moving and thought provoking, which allowed me to write about the plight of refugees from their point of view.  But in truth, it was Ali himself who fascinated me. He is a unique individual and despite surviving the most horrendous circumstances under Saddam Hussein, he remains a warm, charming, insightful man with high moral standards and a great sense of humour. He carries little blame, and took his punishment with grace, even though he could not see how bringing his family and nearly five hundred other desperate Iraqis to safety was a crime. His strength, loyalty and courage were deeply inspiring to me.  
What was the biggest challenge, writing it?
Building trust, and the guilt I felt asking Ali to revisit a life he didn't want to have to relive. He had endured incarceration and torture, the loss of family members and dear friends, love and heartbreak, and the birth of a child he cannot see. But part of Ali's survival tactics is to never look back, so like his father before him he always manages to find a way to look positively to the future.
What did you want to achieve with your book?
To make Australians more compassionate and understanding towards people who are less fortunate than ourselves.  
What do you hope for your book?
That it will change the direction of the debate about refugees by touching people who had previously never asked themselves what they would do if they were in the same situation. To get them to see it is not all black and white, and to gain respect and compassion for asylum seekers as fellow human beings.
Are there any parts of it that have special personal significance to you?
Emotions associated with loss, grief, family, and life-changing choices, are comparative to all our lives in a relative way and thus universal. I think everyone will find some aspect of Ali's story that they can relate to or identify with.
Do you have a favourite character or one you really enjoyed writing?
Unlike fiction this book follows the journey of a real person, Ali Al Jenabi. So the job was to discover the essence of his character and to find his voice, in order to get inside him and portray him as truthfully and insightfully as anyone could. It was enjoyable because of Ali's energy, humour, and depth of his self-awareness.
What do you see as the major themes in your book?
Love of family, injustice, endurance and betrayal.
What made you choose the setting?
It's a true story so I followed Ali's journey from his childhood in Iraq in the '70s, through his time in Abu Ghraib, Kurdistan and Iran, to becoming a people smuggler in Indonesia, then finally his incarceration in Australia and his struggle with the government to stay here with his family.
Did the title come instantly to you or did you labour over it?
It was never anything else. I like that there is a certain irony to it. Ali hardly fits the bill. He never set out to be a people smuggler, he just happened to become one along the way.
To whom have you dedicated the book and why? 
Ahmad, Ali's brother and Paddy, my sister, who died during the writing of this book.
Who do you think will enjoy your book?
Anyone who loves a passionate and personal epic tale about love and loss, overcoming insurmountable odds, endurance and survival. In many ways it is a kind of non-fiction moral thriller, which has a chance of reaching a broad, popular audience.
Do you have a special 'spot' for writing at home? (If so, describe it).
Our house is built into a cliff overlooking a park and on the ground level there was a dirt-floored garden shed, which I renovated. It now has sandstone paving with glass and cedar doors, which I bought at an auction for $100. They open out onto a forest and it has become a beautiful workplace. But during the last stages of writing the book I became ill and moved upstairs. I am now a nomad. I have worked in every available space in the house - when the weather is good I work on the balcony, when it rains I go to the coffee table in the TV room, the dinner table in the dinning room, or my lap in the lounge. In a word, I roam, and am quite happy wherever I settle.
Do you like silence or music playing while you're writing?
I prefer silence, I never play music specifically to write to, but my composer husband Christopher Gordon's studio is on the middle floor of our house so his piano is always in the background. This is how it has always been no matter where we live, so it has become a bit like the heart beat of the home, which I enjoy.
When did you start writing?
On and off always, starting with terrible poems in my youth and screenplays more recently.
Did you always want to become an author?
No, in my heart my first love is filmmaking.
Tell us a bit about your childhood?
I rode horses and had a pet kangaroo on a farm in the Western district of Victoria. My three sisters and I had unrestricted freedom to run wild, to the envy of my urban cousins who taught us about city life when we were older. My father, whose father was a journalist, only ever wanted to be on the land. All my life he told me I could be whatever I wanted to be. We were a very close family until one by one, as we reached secondary level and there were no local schools, we were sent to boarding school. It stood on a single city block with high stone walls to keep us in. I missed my animals and fretted for my freedom, but I did become a good athlete and on occasions a good actor, otherwise I learnt very little.
If you've had other jobs outside of writing, what were they?
After studying Humanities as La Trobe University in Melbourne, I travelled in Asia then worked the usual unskilled jobs including in a wine bar, restaurant and music joint called The Limerick Castle, in Surry Hills, Sydney, which I soon bought in partnership with the chef.  
I later became an entrepreneur touring performers, a photographer in San Francisco, and worked on fishing boats and canneries in Alaska. In New York I began working in film, then back in Sydney, I set up a production company writing directing and producing. Somewhere in there my sister and I set up a business painting houses, much to the hilarity of men in the building industry, and I renovated two houses, which I made no money on because I lost sight of the investment imperative and turned them into works of art. In 1996 I was employed as Directing Lecturer at AFTRS, the Australian Film TV & Radio School in Sydney, then returned to writing in 2002.
Describe yourself in three words?
Passionate, enquiring and driven (once I get a bee in my bonnet).
What star sign are you and are you typical of it?
Sagittarian. Yes, I believe I am typical.
What three things do you dislike?
Mean-spiritedness and greed, cruelty to animals and plastic packaging - especially the glad wrap they put around the newspaper, which takes longer to get off than reading the paper.
What three things do you like?
Fairness, honesty and kindness.
Have you a family, partner or are you single?
I met my husband, composer Christopher Gordon, when I was studying at Film School in Melbourne. He did the sound and music on my first little film. He later came to Sydney to write the music for another film and moved in. We respect each other's crafts and love to work together. When I became ill as I was finishing this book, for a while I lost my sight. He became my reader, my scribe, my researcher and production manager. Without him, it would never have been delivered.
To contact Robin email her at robin@thepeoplesmuggler.com